Are you tired of:
Lugging your heavy vacuum cleaner up the stairs to clean up a small mess?
Not being able to quickly clean up your car, boat, or RV whenever you need?
Worrying about vacuuming sharp or heavy objects like broken glass, nails, or gravel?
Cleaning crumbs off your table cloth by hand after every meal?
Getting pet hair on your furniture or clothing at the worst times - like right before an important meeting?
Switching vacuum bags, removing sticky roller-brush tape, short cables, and expensive repairs?
The annoyance of the amount of work required to clean up a small mess?
Vacuum cleaners are great, but let's face it: sometimes they just aren't what you need! Wouldn't it be great if there was a small, light, vacuum cleaner that you could take anywhere and use anytime quickly and easily?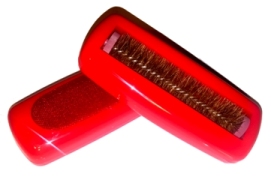 Stock Note: Original Fluppi is out of stock and is no longer being manufactured, but we have a high quality replacement available (pictured on the right):
Boar hair bristles
New brush holder design
Built-in lint brush
Quality plastic
Packed in plastic bag
Same low price - order below!
Introducing the amazing Brush Fluppi - the smallest, most convenient, vacuum cleaner in the world!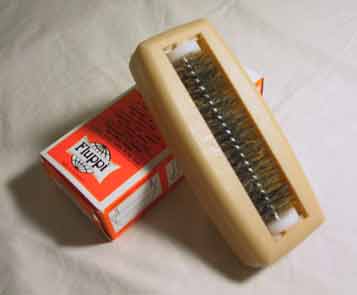 Fluppi is a simple, ingenious cleaning brush from Germany. It is no larger than an eyeglasses case and weighs only a few ounces. It requires no batteries or cords, no bags or tape, nothing at all to add or replace. It is incredibly simple to use and unbelievably easy to clean.
Fluppi is perfect for your kitchen, tool chest, car, boat, or travel kit. Anywhere you could use a small, powerful cleaning tool!
And powerful it is! It is truly astounding how well this simple tool works. Dirt, crumbs, and pet hair disappears in seconds, but Fluppi can do so much more! It can pick up objects that ordinary vacuum cleaners never would; objects like nuts and bolts, broken glass, gravel, even small batteries!
Would you ever drag your vacuum cleaner over a can of nails spread across the carpet? Are you kidding? But we've done precisely that and Fluppi picked them up with a few strokes - no problem!
Just drag your Fluppi back and forth over the carpet and the debris disappear! No heavy cleaners to lift, no cords to plug in, no bags to worry about - how much easier can it get?
Clean-up is a snap. Literally. Just pop the Fluppi open over the nearest garbage can and you are done! And if you ever need to wash it just put it in your dishwasher! Best of all, with Fluppi you don't have to throw away what you picked up - those nails can go right back into your tool box!
This amazing tool has been sold to thousands all over the world! It has proven indispensable around car, home, or office. It has been used by restaraunts to speed up table clean up, by pool halls to care for billiard tables, by homeowners for quick carpet and furniture clean ups, by car, boat, and RV owners for a take-anywhere clean up tool...
The Fluppi is incredibly durable. With no complicated moving parts to break or jam it will work for life! We are so sure that we'll guarantee it, for life! That's right, if your Fluppi ever breaks from normal wear, just take advantage of our lifetime warranty and we will repair or replace it at no charge!
This wonder cleaner from Germany must be seen to be believed! Fluppi has been demonstrated at shows and conventions all over the world with tremendous success. People watched in awe as this miracle cleaning brush picked up gravel, marbles, and batteries off the carpet. They asked to see it again and again; they asked to try it themselves. They could not believe Fluppi was real until they used it themselves! That's why we know that whatever doubt you still have will be replaced by amazement after you slide your very own Fluppi over the carpet! We are so sure that we'll do anything to prove it to you!
Thousands of Fluppies have been sold for $9.99 or more - a very fair price for such an incredible tool. But we want to share the magic of Fluppi with more people around the country. We want you to try it yourself, we want you to show it to your friends, we want you to give it to your family. We want you to have absolutely no doubt that you are getting an incredible deal. Thanks to the power of the Internet we can offer Fluppi to more people at lower prices than ever before. By ordering online today you can have this wonder from Germany for 30% less - for only $6.99 each!
Just $6.99 for an amazing cleaning tool that you can take anywhere! Fluppi will amaze you and impress your friends and family. It makes a wonderful gift for your favorite home owner or traveler. It will work its magic for years to come without any maintenance, with nothing more to buy, ever! It is guaranteed to work right out of the box and to keep on working for as long as you own it!
Plus, if you act fast and are among the first 1000 people to order Fluppi this month we'll drop the price by nearly another 30% to just $4.99 a Fluppi!
We know this is an amazing deal, but we want you to see, to try, this incredible invention! We are absolutely convinced that you will love your Fluppi once you see it in action! To prove it, we will give you an unconditional 30-day money back guarantee! That's right, if you are not absolutely thrilled with your Fluppi, just return it for a full refund (minus shipping and handling) - no questions asked!
You get it all - the simple, brilliant cleaning tool, the unbelievable price, the lifetime warranty, and a chance to try it out with absolutely no risk!
STOP looking! This is the best offer we've ever made and this is absolutely the best deal available! In fact, we'll give you 30 days after purchase to find a better deal. If you find anyone else offering Fluppi for a lower total cost (including shipping and handling) we'll happily refund 100% of the difference! Even if they cannot match our lifetime warranty and money back guarantee! Plus you'll have the benefit of our convenient ordering, fast shipping, flexible delivery options, and helpful customer service!
This Wonder Cleaning Brush Is Sweeping The Nation - Supplies Are Limited - Get Your Own Fluppi Today!
P.S. Incredible bonus: Buy more than one and save even more! Surprise your friends and loved ones with the magical Fluppi! Buy 2 Fluppies for $8.99, 3 for $12.99, or 5 for $19.99 - it's like getting one FREE! Plus, you'll save on shipping and receive a free upgrade to Priority Mail or UPS Ground for 5 or more units!
P.P.S. Want Custom Imprinting? Fluppi makes a great promotional item - we can get it customized with your logo or message! For complete customization choose the alternate item - it has no existing logo at all and is available in a variety of colors. Contact Sales for details.
Stock Note: Red alternate item is in stock. Original Fluppi is out of stock and is no longer being manufactured.
Order Online Right Now! Just select how many you'd like:
*Red, Blue, or Black brush is not the original Fluppi, but is similar in apperance and works equally well. It uses boar hair bristles and comes with a built-in lint brush. It is packaged in a clear plastic bag instead of an orange box.

| | | |
| --- | --- | --- |
| | We gladly accept Visa, MasterCard, American Express, and PayPal as well as checks and money orders. Your online order will be processed safely through our secure shopping cart. | |
To order by mail or fax use our Mail / Fax Order Form.